SaltMiner
Application Security Posture Management and Prioritization
You can't use just one tool to test an application. But you can use just one tool to manage and report on all your tests and results.

SaltMiner
SaltMiner is a complete Application Security Posture Management and reporting solution that provides full insight into enterprise-wide vulnerabilities with high level trending and executive dashboards that immediately convey your current state of risk, health, and compliance.  SaltMiner is easy to install, easy to use, and easy to integrate into your existing processes. SaltMiner is the first and only enterprise-ready AppSec Posture Management tool that:
Gives you the visibility that matters with faster, better prioritization of vulnerabilities
Simplifies report creation while building in the flexibility to track and report what you want
Overcomes organizational silos with a common tool that also supports your current processes and investments

Automates key features like data aggregation and normalization
SaltMiner Community
SaltMiner Community contains all the power of SaltMiner, except applied to manual Pen Test results management and reporting. SaltMiner Community is freely available to download and use. With SaltMiner Community, you can:
Manage all manual testing results from one dashboard

Make reporting not just simpler, but better with added business context

Easily share and recreate tests among a team

Eliminate manual assembly and aggregation of results
Services 
The pressure to deliver better applications to market faster only grows while the specialized skills necessary to secure them remains in short supply. Saltworks Security offers the right combination of expertise on demand combined with the broad range of experience necessary to secure modern applications. With Saltworks Security, you can:
Test your applications once or repeatedly with Testing as a Service (TaaS) 
Apply advanced testing techniques and analysis with Security as a Service (SaaS)  
Implement AppSec posture management and maturation with Managed AppSec  
Working together to build world-class application security programs
Free pen test management and reporting solution supports unlimited users, eliminates data format conflicts to improve efficiency, production ATLANTA — March 2, 2023 — Saltworks, an application security (AppSec) company, today announced SaltMiner Community, a new...
read more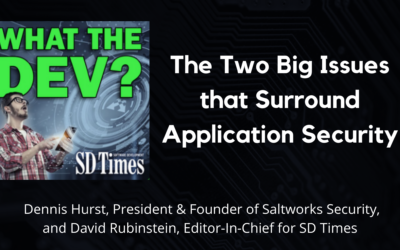 Last month, our founder and president Dennis Hurst had the opportunity to talk with SD Times' editor-in-chief David Rubinstein on SD Times' podcast "What the Dev?"   Throughout their talk, they focused on best practices for Application Inventory and Attack Surface...
read more