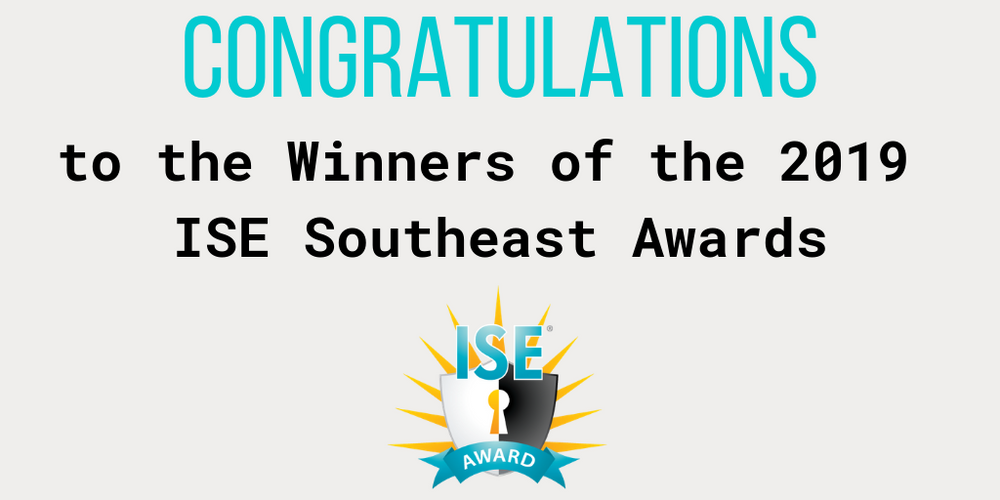 We would like to extend our congratulations to the award winners from this month's ISE Southeast Forum and Awards.
Kim Keever, the CISO and Senior VP of Security, Analytics & Technology Services for Cox Communications, received the 2019 ISE® Southeast Executive of the Year Award. This award focuses on an executive or chief security officer who made exemplary impacts on his/her organization through strong leadership, innovation, technology partnerships, and vision. Recently, Ms. Keever took new approaches to using analytics at Cox Communications, which led to significant cost savings for the company.
David E. Black, the Chief Information Security Officer with SiteOne Landscape Supply, received the 2019 ISE® Southeast People's Choice Award. The winner of this award was chosen by an online voting system in which security practitioners submitted votes to award one of their peers in the cybersecurity industry.
Aflac's "Ducking an Identity Crisis with Real-Time Fraud Alerting" Project won the 2019 ISE® Southeast Project of the Year Award, which focuses on a project that showed outstanding positive impact on a company's security initiatives. This project focused on creating a flexible analytics platform that flags suspicious activity in real-time and alerts personnel across Aflac business units so proper action can be taken as quickly as possible. It addressed the issue of criminals finding vulnerabilities within Aflac's data as they were transitioning from a legacy-serving model to a digital-first environment.
Read more about this year's ISE Southeast Forum and Awards: https://www.newswire.com/news/t-e-n-announces-winners-of-the-2019-ise-southeast-awards-20794420?fbclid=IwAR2TijofqxbrKna1mwNSyVY0AMj3a-PX_OWeTflQ9ELU56jR6MdGaxigkKw